Beaumont-Port Arthur-Orange, TX.
---
Music News

My friends in Porno Villain recently had their jam room broken into in downtown Beaumont. Only a small amount of equipment was stolen, a Mesa guitar head and a DW drum pedal, but still very expensive. Word has it the band is having their equipment replaced, but at the cost of being asked to leave their jam room by the owner of the building. How fair is that? NOT! Best of luck, guys!

The Scott McGill Band is set to enter the studio very soon to record a CD. No word on a possible release date yet.

Saber are in the process finishing up work on their as yet untitled disc. No release date information available at this time.

Livin Proof are no longer with their management company, RDM Management, but seem to be busier than ever. The band received an offer from Sun Records a few months ago, but it was for a developmental deal. The band is currently playing all over the regional area. Be sure to catch them live if you can.

Local punk band, The Put-Downs, have just recently returned from a very successful 3 week, 14 show tour of the west coast. Congratulations, guys!

Beki Burton of Beaumont has just finished recording an 11 song CD for KMA Records in Nashville, TN. No word of any release date.

The LSSCMA (Lone Star State Country Music Association) recently sent me the following information: The Best of Texas 2001 Music Awards and Festival will be held October 11-14 at the Hilton in Beaumont, TX. Tickets are good for all four days of events, and the costs are $30 for ages 13 and up, $15 for ages 3-12, and free for ages 3 and under. This years show will be covered by Country Roundup TV of North Carolina.

---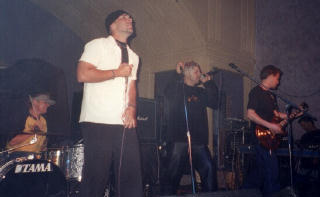 Local fan favorites, Soul Shock (pictured), will be opening for Houston based rockers on Thursday, July 12th, at Palladium. Doors open at 9 p.m., and tickets can only be purchased at the door the night of the show. The show is for ages 18 and up.
The Hunger are touring in support of their latest album, "Spaceman's Last Goodbye", and this is their second stop in Beaumont this year. Soul Shock will open the show, and you are guarranteed an energy packed set of covers, and the surprise original thrown in for good measure. Both bands are definitely worth catching. Be there!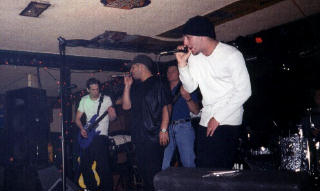 ---
CD Review...
Cypress
"Mighty Fine Day"
In case you have been living in a very sheltered world and have not heard of these guys, then you are missing out on a great band. Their cd, "Mighty Fine Day", was a refreshing surprise to hear.
The members of Cypress are:
Clay Grant-Vocals, Rhythm guitar
Randall Roberts-Vocals, Lead & Rhythm guitar
Chris Lee-Vocals, Harmonica, synthesizer
Bubba Woolwine-Vocals, Mandolin
Michael Gross-Bass, Vocals
Mike Foulch-Percussion, Vocals
The disc contains ten songs with a running time of just over 44 minutes, with a hidden track just after the last song. The hidden track is basically a remix, or less acoustic version of the first song, "Temptations".
My favorite songs on the disc are Temptations", the more uptempo sounding "Cajun Woman", and "Send me an Angel", which almost has an Allman Brothers sound to me. Another song, "Time Is Wastin' Me" has an almost Knockin' On Heavens Door sound to it.
The band describes themselves as Gumbo Rock, and I would have to agree. They have so many influences that stand out on this disc, while still maintaining their own sound. Cypress has a classic 70's style sound without sounding vintage, and keeps it fresh and rocking along the way.
Do yourself a favor and catch these guys live when possible. You can find out their schedule, or learn more about the band, at their website, Cypress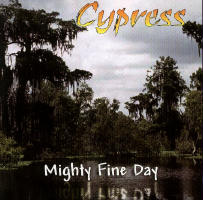 ---
Out of Town Shows
Here some shows that might call for a road trip, but they could be worth the time and gas. Enjoy!
7/22 Warped Tour @ The Woodlands Pavillion
7/28 Zebra @ The 19th Hole in The Woodlands
7/29 The Cult w/ Monster Magnet @ The Woodlands Pavillion
7/29 Godsmack w/ Deftones @ Compaq Center in Houston
8/3 3 Doors Down w/ Seven Mary Three and Tantric @ The Woodlands Pav.
8/4 Faster Pussycat and L.A. Guns @ The 19th Hole

---
Rumored to be coming to Palladium in the next several weeks are the bands, Vallejo and Podunk. Vallejo, based out of Austin, has a local connection to Beaumont thru guitarist Heath Clark. The tentative date for the band to play is July 26th.
Podunk, originally from Port Arthur and now out of Austin also, will be making a return trip to the Golden Triangle. Their date is scheduled for August 9th at the club also. No word on any opening acts or ticket prices as of yet. More details to come!
---
Site Map
| Resources | Venues | Artists | Forum | Local Scene |
Contact | Join | Java Chat | Free Email | Reps Only | Events |
TDN News | Free Downloads | TDN Communities
Copyright 2001 © TourDatesNow(TM) All Rights Reserved