Covered by Robert Parker
Email Robert
Rep's Band Picks
Places To Hangout
Rep's Resources
Boise, Idaho Local Scene
GREEN DAY HITS BOISE
Over the past years of seeing second-wave Green Day shows (that is, post-Nimrod) there have been a number of things I have come to expect. There will be audience members playing music on stage, there will be Billie Joe Armstrong performing strange poses and doing something sexual, and if Tre Cool can't burn his set then he'll do whatever he can to destroy it. At some point there will definietely be a sing along.
At Green Day's Boise show this year, and I suspect every show of their tour, they knew what we were expecting and delivered what they came to do at a further extreme then ever before. Instead of putting one fan behind a guitar, they created a whole band. Instead of just making lewd comments and rubbing up against the stage, Billie Joe took the time to fake an entire intercourse. And not only did Tre Cool destroy his drumset, he continued to play on the remnants for one last song. As for sing alongs, the band made an effort to interrupt every song for a "hey-hey-hey" or two. Some of the antics were welcome- the band was far more punk than in the past, egging the audience and playing many of their heavier songs like "Platypus" and "Jaded".
The band had more stage props along this time, with sirens, warning lights (of course) and three backdrops. Backup musicians fleshed out the music with extra guitar and horns. They also fit in all of their singles. Unfortunately, some of the good was washed away in the process. Only three songs were before Dookie, and they played few non-single songs. Billie Joe demanded all the attention, leaving Mike Dirnt and Tre Cool in the background. Additionally, their recent exploration into different styles of music was almost completely ignored, only playing their most typical songs off of Warning.
All of these problems could have been fixed, of course. A little changing up in the set list could have offered more variety, and if they found themselves running out of time they could think about getting rid of all of their incessant audience participation moments, except perhaps one or two. After all, nobody paid 25 dollars to hear themselves. Or maybe they did. Whatever the case, I was disappointed to miss out on so many good songs because they wanted to have friendly chats with the audience. Overall, the show was a worthy experience, although I am always disappointed in Green Day's apparent lack of enthusiasm for the music itself. One day I fear the show will entirely consist of old camptown singalongs and some guy on stage faking an orgasm.
---
Shades Apart – Climbing to the Top on Their Own Terms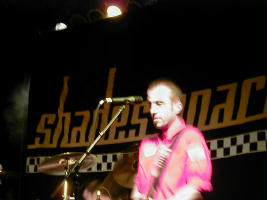 Though most of pop culture's attention is focused on a few acts that showed up overnight and ripped out a few hit singles, most of today's really solid music comes from bands that have taken the time to develop their sound and bring their own style into the spotlight. Many of these artists, in the truest sense of the word, spend years, or even decades, before hitting their peak. Others may receive instant acclaim, only to be thrown out of the spotlight just when they're mastering their trade. Shades Apart, a veteran New Jersey band, have been mastering their trade for several years now, and with their sophomore major-label release Sonic Boom and opening slots for achieved bands such as 3 Doors Down, Sum 41, and currently Our Lady Peace, it seems that they are fast on their road to success.
Shades Apart played Boise this week along with Canadian rockers Our Lady Peace at the Big Easy Concert House, and through the years of switching labels, playing all over the country, updating their sound, and reaching more fans, they had learned all sorts of things about what it takes to be a solid, accomplished power trio. The team of Mark, Ed and Kevin have been playing together since high school, and through seven albums have been tagged as everything from punk rock to power pop. The band themselves land no faith in the genre-labeling trend. "We should take the case to one of those TV court shows," Kevin suggests. "Leave it to Judge Judy to decide." Instead of fitting a mold, Shades Apart has developed their own sound, an anthem-like feel with raspy lyrics and addictive pop hooks. Songs like "Beat by Beat" and "Superzero" from their latest album introduce themselves with riffs and hollering harmony that stick in your head for days beyond, and the solid rhythm from drummer Ed and bassist Kevin make for a warm invite to stick around and listen.
The band joined on to the Universal/Republic team for their album Eyewitness and have stuck with the goliath label for Sonic Boom, tying their record for longest streak with one label at two albums. "Never sign more than a one-record contract" was frontman Mark's sole advice to aspiring musicians. This creed has worked well for the band, giving them control of the band's direction. This control was somewhat taken away from the band when they signed on to the major labels, but that isn't necessarily a bad thing. "With independent labels it seem slike you have ultimate control," points out Kevin, "but [being on Universal] affords us to just stick with the music." This new freedom to focus on the music allowed the band to try new things and puch ahead with their songwriting, but at the expense of the raw energy of their independent releases. This energy is coming back with experience, though, and Sonic Boom glimmers with some of the power that shows through on their older releases.
What is the next step for Shades Apart? Well, for now we'll all just see where the road takes them. The touring schedule that has kept the band on the road for some time now has served them well, opening them up to new audiences and new experiences. For now, that's all they really need. With the help of their fans and associates in the industry, they'll keep moving ahead, but in their own fashion. As Kevin pointed out, "you'll always have people trying to steer you in a different direction, not that you really have to listen, but those kind of people just come and go… We just do what we do."
Site Map
| Resources | Venues | Artists | Forum | Local Scene |
Contact | Join | Java Chat | Free Email | Reps Only | Events |
TDN News | Free Downloads | TDN Communities
Copyright 2001 © TourDatesNow(TM) All Rights Reserved