Her unique voice and songwriting skills are unmatched, and have earned the respect of those around her, which has allowed her to become a mainstay in the Mid Atlantic region. Regan is known for her outstanding live performances. Regans style has been described as Bjork like, except her personality is that of a sweet, unasuming girl who may not know how much talent she really has. I have had the pleasure of booking Regan and her band several times myself, and they are just not what you would expect from such a talented group of artists, missing the attitudes and prima-donna qualities that are so common in many artists today. She has been a member of Floating Folk Festival for quite some time, and has always been a favorite. You can check out some of Regans music at Regans MP3's
---
LAMB OF GOD

Lamb of God, formally Burn the Priest has signed to Prosthetic/Metal Blade Records. The band went into the studio to record their newest creation with Today Is The Day mastermind Steve Austin at Austin Enterprise Studios just outside Boston. The CD, entitled "New American Gospel," was released in September 2000. LAMB OF GOD came together in the current form in the fall of '99. They recently completed a tour with Canibal Corpse and The Haunted "The Spring NeckBreak Tour" and have been creating a revolution with their extreme style of music. Since reforming the band has shed its old skin and emerged even stronger. Some of the reasons for the change were a new guitarist, the new record deal, and a general new focus on their direction. This band is well worth finding if your in Richmond, or on one of their many regional tours in the area.
---
SEROTONIN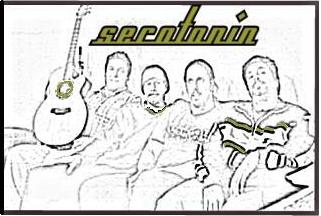 Formed in 1994, Serotonin is an ultimate rock band located in Richmond, Virginia. Their sound is made up of solid songwriting and arrangements. Sonically they combine the best of '70s,'80s, and 90's rock to create a familiar yet distinctively unique sound. the bands music is solid, with driving rhythms that boom and whisper as the songs dictate. On top of that are soaring, diving, and powerful melodies from the guitars and vocals that create what can only be described as the Serotonin experience. Not too heavy, not too soft, but diverse enough for lovers of almost all rock-n-roll genres. They recently did Richmonds Chili Cook Off sponsered by XL102 The Big Rock Station, where every year bands compete with other great bands. Altho they didn't win this years, they said they had a great time. Better luck next year guys and keep up the good work.
---
ULTRA BAIT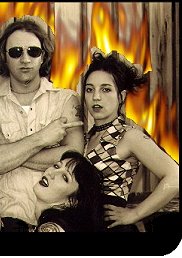 Ultra Bait is known for leaving audiences with a punch in the face and out of breath feeling, just what their crowd wants. Their unique blend of garage, punk, and caustic rock is definatly a spellbinding experience. Their show is unforgettable and always has a suprise or 2, to say the least. They make the guys fantasize and the girls wanna beat up on things. Aggressive beyond description. Sometimes known as the trashiest punk band in Richmond, you will find them drunk, half-naked, annoying, self-deprecating, and proud of it! Lead singer Angie is not beyond exposing a nipple or other eye candy while on stage, and every show can be a happily messy experience for their fans. In fact, Alley Katz in Richmond still sports a glitterized floor from an Ultra Bait show that took place almost 2 years ago. If you like bands with a definate "tude", you will love these guys, so check 'em out!
---